Considered the best weekend or 2 days getaway in Nepal? The 2 Days Short Poon Hill Trek is the best amongst national and international tourists. Every year different people head up to Poon Hill (3,210m) to see some of the best views in the Annapurna Himalayas! Mostly known for its spectacular views, Poon Hill is also a well-known picnic spot, great for families, couples, or a group of friends. While the Poon Hill trek usually takes 4 to 5 days from and back to Kathmandu, Trekking Trail has made a unique itinerary of just two days, starting and ending from Pokhara. So if stunning views, a short hike, and getting away from the busy city is something for you, then don't hesitate and book today the Short Poon Hill trek.
We are especially creating this 2 Days Short Poon Hill Trek from Pokhara for people with less travel time or Nepalese who want to enjoy a great weekend in the Annapurna Himalayas. There will be some short hiking of about 3 to 4 hours upwards to Ghorepani and 2 to 3 hours back down to Thikedungha. Perfect for any fitness level, the Short Poon Hill trek is considered one of the easiest treks in Nepal. Trekking Trail organizes a private jeep ride from Barahi Chowk to Upper Ulleri, from where the tour officially starts. Heading up to Ghorepani can be a bit strenuous for newbie trekkers, but ample stops along the way at some local villages let you reenergize to continue to Ghorepani.
Similarly, Lunch is at one of the villages, depending on our trekking pace. Ideally, we would like to reach Nangithanti for lunch and head on to our overnight destination at Ghorepani, located just below Poon Hill.
Poon Hill View Point – Day 2
The following day an early wake-up is a must as we plan to hike for about 50 minutes up to Poon Hill to catch a sunrise view. Within the backdrop, famous mountains and peaks such as; Mt Dhaulagiri I (8,167m), Mt Annapurna (8,091m), and the legendary fishtail mountain Mt Machhapuchhare (6,993m). Having enjoyed one of the world's most beautiful sunrise views, we get ready for breakfast back down at Ghorepani and prepare to hike back down to Thikedungha. Amazingly the views while heading down are so different compared to the previous day when we headed up.
After a couple of hours hiking downhill, we reach Thikedungha, where we can have lunch and walk about 30min further to Hille, where we catch our jeep back to Pokhara. Dropped off at Pokhara, the Short Poon Hill trek reaches its end, making for a perfect two-day holiday in Nepal! Depending on the season, the trekking trails of the Poon Hill trek can get crowded, but not to worry as we skip a few days of trekking by driving direct from Pokhara to Upper Ulleri. The Short Poon Hill trek, 2 days from Pokhara, is specially designed for those who wish to skip crowded trails but still enjoy the views of excellent Poon Hill! The views are similar like from Mohare Danda, Check the view in pictures.
While the Short Poon Hill trek of 2 days starting and ending at Pokhara is for both national and International tourists, there are more and more Nepalese trekkers and outdoor lovers eager to try out this 2 days trip in Nepal.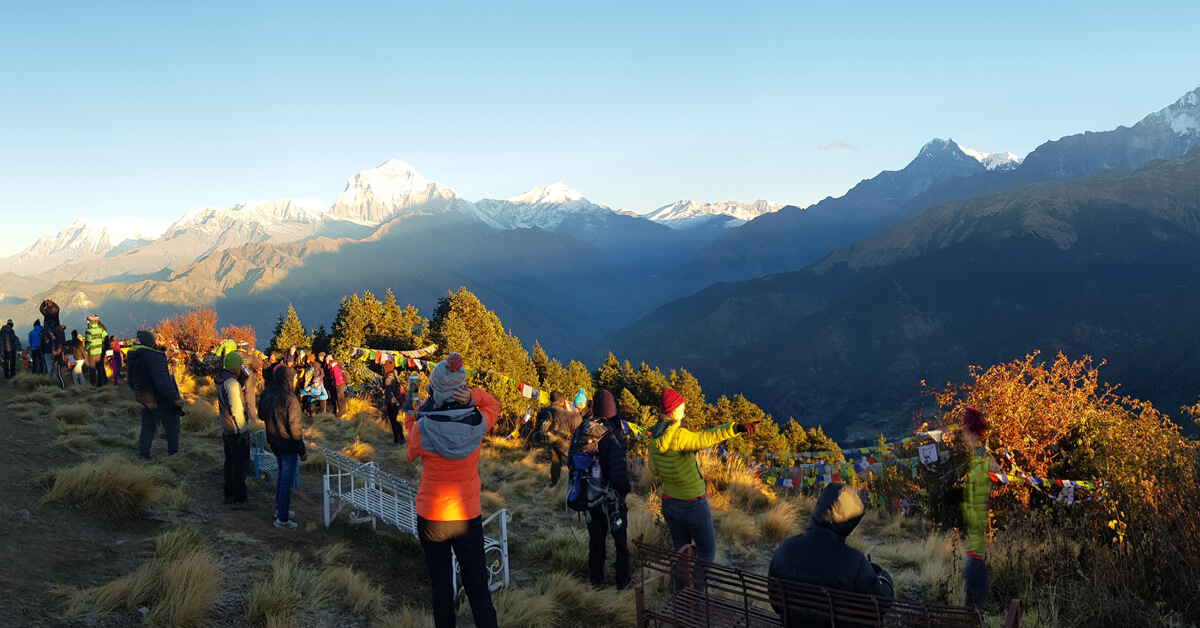 2 Days Poon Hill Trek Itinerary in Short
Day 01: Pick up from Pokhara and drive to Upper Ulleri and trek to Ghorepani
Day 02: Sunrise view from Poon Hill, trek to Tikhedhunga, Continue 30min hike to Hille + go back to Pokhara: Check The Detail Itinerary and Hotel Contact List.
Question Answers 2 Days Trek from Pokhara
How challenging is the Poon Hill Trip?
As mentioned above in the overview, the Short Poon Hill trek is considered one of the easiest treks in Nepal. Perfect for novice trekkers or inexperienced hikers, the Short Poon Hill trek can be viewed as a gateway to further treks or hikes in Nepal.
How long do you need to hike each day during the trek?
As the name states, "Short Poon Hill trek" is only two half-days of light trekking. The first day starting from Upper Ulleri consists of 3 to 4 hours of upward hiking until Ghorepani. The second day is a bit faster and consists of about 2 to 3 hours, as it's mostly downhill following the same trekking trail back to Nayapul.
What is the hotel type during the Poon Hill Trail?
The hotel type during the Short Poon Hill trek is a standard teahouse or guesthouse. We stay at the Sunny Hotel. Comfortable, clean, and with amazing views, you can expect a goodnight's sleep here! This package does not include accommodation in Pokhara, the only place we overnight are at Ghorepani during the Short Poon Hill trek.
Type of food and drinks available
During the Short Poon Hill trek, 2 lunches, 1 dinner, and 1 breakfast will are in our package. Our first lunch will be served between Upper Ulleri and Ghorepani and consists of typical Nepalese cuisine Dhal-Bhat, papad, and veg. Similarly, Dinner will be due at the fancy hotel in Ghorepani as well as breakfast. Dinner will be veg or non-veg as your interest. At the same time, breakfast consists of Chapati, Omlet, Fried Alu, or toast with eggs. You will also get a hot drink per meal, with the option of coffee or tea. Other beverages are available but not included in the package.
Is there a porter service for this short hiking trip?
Porters, also known as supermen of the Himalayas, are an extra service to carry baggage along your trek. However, this service is not including in the package, but if required, Trekking Trail can organize. One porter will have for every two trekkers, and these heroes can carry up to 25kg. Per porter, a charge of 3,000 Nrs is the fee for the entire trip. So let us know in advance if you need porter services for your two-day Short Poon Hill trek.
What is the guesthouse accommodation like during the trek?
Mentioned before the accommodation in Ghorepani is a guesthouse, called the Sunny Hotel. Rooms have king-sized beds for couples, twin beds, or single beds. To get a room with a king-sized bed, we do ask you to notify us in advance. Ho depending on the season, we cannot guarantee availability. The rooms are small and comfortable, with soft mattresses and clean blankets. Although the rooms are clean, we recommend bringing a sleeping bag for extra hygiene and extra warmth during the colder seasons.
Is hot drinking water provided during the Hike ?
At the Ghorepani guesthouse, hot drinking water is including for the Dinner. But we do recommend bringing a good water bottle or thermos. Even for drinking water, we advise against buying ( Hot Resistance ) water bottles as these end up in landfills or being burned, damaging the environment. On the way, we can get drinking water at refill stations at a price or for free during our lunch stops.
Is the hotel in Pokhara included for Pun Hil Trip?
As the point of the Short Poon Hill trek is to decrease the total cost, there is no hotel in Pokhara included in this package. No worries, Trekking Trail Nepal will manage all bookings for your Short Poon Hill Trek. Even we are more than happy to help you to book your hotel in Pokhara.
Where do you need to be to start the trip ?
The official meeting point to start the Short Poon Hill Trek is at Barahi Chowk; of course, we can pick you up anywhere along the way from Barahi Chowk to Phedi; notify us in advance where you will be waiting.
Do you need to pay entry fees for Pun Hill Park?
During 2 Days Short Poon Hill trek, you are not required to pay any entry fees. This Pun Hill Trek is an all-inclusive package as we used to sell to our international Trekkers.
What can you do at View Point?
Besides the unique and stunning views, Poon Hill has a rather expensive but incredibly delicious hot drinks shop where you can try out hot cocoa or coffee, tea while taking in the beautiful sunset over the Annapurna Himalayas.
The views from The Top
Poon Hill is one of the most popular treks in Nepal. The view from Poon Hill looks out to the north. Directly you can notice in the center Mt Annapurna (8,091m), to the west Mt Machhapuchhare (6,993m), and the east Mt Dhaulagiri I (8,167m). Other Mountains and peaks you can see from Poon Hill are; Nilgiri, Hiuchuli, Annapurna South, Dhaulagiri I, II, III, Dhampus Peak, Tukuche Peak, and the 12 peaks known as Bharaha Shikar.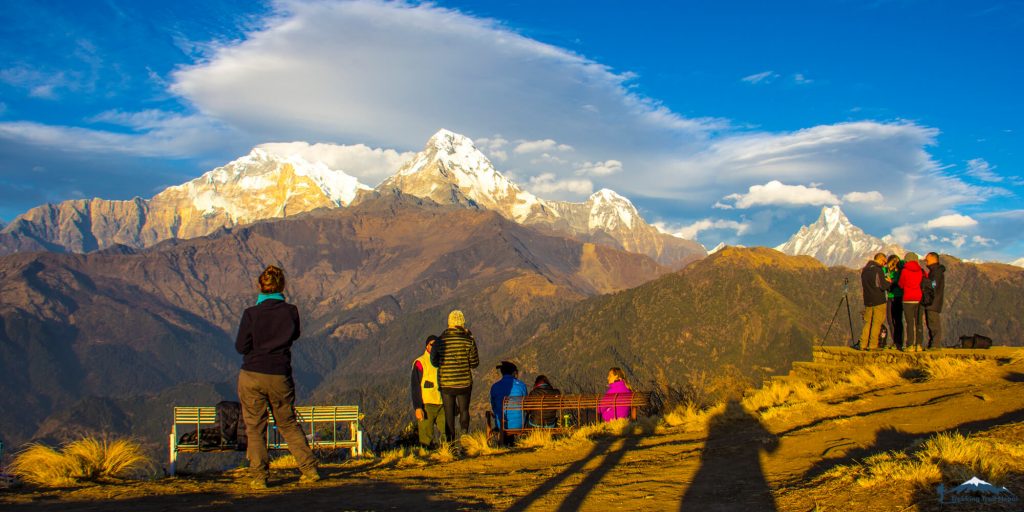 What's Inclusion in Price
4 Wheel Private Jeep from Bahari Chowk to Banthanti and Tikhedhunga to Pokhara for Short Poon Hill Trek includes.
Veg Dal Bhat Set at lunch in Banthanti and Tikhedhunga on Day 1 and Day 2.
Chicken Dal Bhat Set for Dinner at Hotel Sunny in Ghorepani.
Nepalese Set Breakfast on day two at Hotel Sunny in the morning. This meal contains Tandori Naan, Boiled Egg, Potato beans curry, and pickle.
Twin or triple sharing tea house standard accommodation in Ghorepani for one night.
Any tea or coffee on every meal and breakfast.
Poon Hill Entry Tickets.
Experience Trekking Guide to assist all your needs during the entire trip.
1 Hot Shower in Ghorepani
1 Liter of hot drinking water after Dinner
What's Exclusion in Price for 2 Days Short Poon Hill Trek.
Tits bits, snacks, soft drinks, and bar bills.
Attached room if you wish for an extra luxury room.
Tips or Gratitude for guide or porter, if any.
Statements at Poon Hill Visitor Park.
Everything else beyond on What's Inclusion in Price.
Costing Sheet Pricing for Nepali Group Only.
JEEP Jeep ( 7 Seat for Guest )
Rate ( NRS )
Pax For Break Even
*Min – 5 Person
Jeep to Banthanti
9000
9000
Jeep To Pokhara
7000
7000
Lunch




Lunch at Banthanti
380
1900
Lunch at Tikhedhunga
320


Dinner + Breakfast + Accommodation in Ghrepani Sunny Hotel
1500
7500
Poon Hill Entry Fee
50
250
Guide ( For 2 Days )
2700
2700
Total Cost For 5 Person


27350
Total Cost Per Person ( Minimum 5 Guest for Each Trip )
5470
2 Days Poon Hill Trek Costing for Nepali Hikers.
The Short Poon Hill trek of 2 days from Pokhara is the ultimate weekend or two days of fun and adventure. Want to go out with friends, have a nice short family vacation, make a romantic experience as a couple wants to celebrate an anniversary, then don't hesitate and book today with Trekking Trail the Short Poon Hill trek!