Mundum Trekking Trail (listed: 100 must visit destination by Nepal Govt.), the construction work is on rapid progress.
The Local Government, State Government and Swiss Development jointly invested for this project. Firstly, out of 88 km long trekking route, the authorities have already completed 25 km of the trail under the joint fund.
Mudum Trekking trail tourism promotion project constructed the project which will ultimately lead to the local economic development. Likewise, Maintaining of trail, widening of stairs, expansion of trail, construction of squares and preservation and conservation of Local cultural heritage and local attractions. Furthermore, The Mundum Trail trail covers the geography of Tamkeymungung Rural Municipility of Bhojpur, Salpa Slicho Rural Municipility, Khadananda Municipality, Bhojpur Municipality, Sakale Municipality of Khotang and Kepilas Gadhi Municipality.
Mundum Trekking Trail and View Point
Mundum Trekking Trail Work In Progress
At present 33 different groups of workers currently working for upgrading of Mundum Trekking Route. Mundum Trekking is based on Kirati Rites, Culture and Lifestyle. According Pabi Hang Rai, Ancient Kirati People developed this Mundum Trekking Trail based on their tradition to perform activities from Birth to death on the basis of Mundum.
On the other hand, this trail is located in the places where Kirati community live. So, The Construction works reflect different Kirati culture, Costumes and lifestyle with Nature and Himalayas. The beautiful Himalayas along with the local culture and tradition is very alluring. Also, the Kirati attaire, and local cuisine adds to the unique experience of the Mundum Trek Route.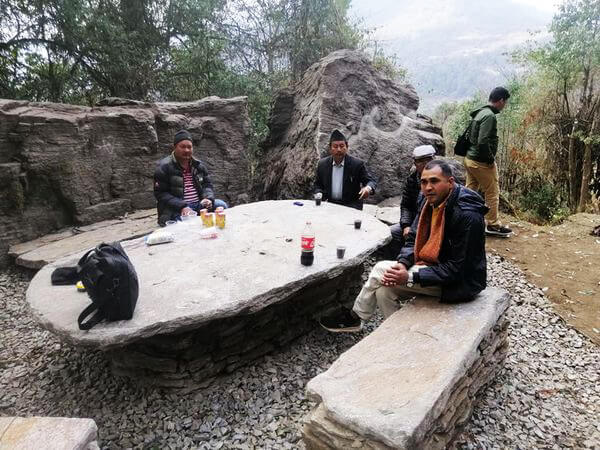 Views from Mundum Trekking
From this trail we can see six 8 thousanders including Mount Everest, Kanchanjunga, Lhotse, Makalu, Cho-Oyu. Apart from this, we can see 45 other snow caped Mountains, unique to this Mundum Trekking Route. Also, golden plain fields of low lands of terai makes this Mundum Trekking a different yet pleasurable experience in Nepal.