Are you bored staying at home for a long time, and planning a trip after the coronavirus lock-down? Well, don't miss these 10 places in Nepal. If you haven't visited these places, then you haven't visited the best of Nepal. Let's check our 10 Best Place to Travel in Nepal.
10. Surkhet: Best Place for Cultural Trips
Surkhet is the headquarters of the Midwest. Kakrebihar, considered second Lumbini, is located here. Additionally, there are other famous tourist spots like Deuti Bajai and Bulbule Taal. Furthermore, Deuti Bajai temple is one of the most important religious hotspots.
Similarly, according to Vaishwanar Purana, it is one of the five Panchakoshi Tirthasthal. Kotikal is also taken in the same category. The eternal flames: Bramhajwala and Indrajwala lie in Gaumadhi, which is the pilgrim's hotspot. Hence, if you want to witness the religious places, as well as, the culture of the Terai region of our country, you should definitely not miss the Surkhet area.
How to reach Surkhet?
As stated earlier, first you travel to Nepalgunj. From Nepalgunj, its three hours bus ride to Surkhet.
9. Sworgadwari: Best Place for Religious Pilgrimage
The literal meaning of the word Sworgadwari is "a path to heaven". As mentioned in the Hindu religious texts, the Pandavas( 5 warriors from Hindu epic Mahabharata) went to heaven from Swargadwari Pyuthan's Swargadwari is religiously important and aesthetically important as it is full of natural beauty. Additionally, dozens of mountains including Annapurna, Dhaulagiri, and Manaslu can be observed closely from this place. Beauty with religious importance, Swargadwari is a place that you shouldn't miss.
How to reach Swargadwari?
A bus trip or flight from Kathmandu to Nepalgunj. Then, you can take a public bus from Nepalgunj to Bhringi. From there, you can either take a private jeep or take 5 hours hike to the temple.
8. Mustang: Best Place to Visit the Mountain Terrain
Upper Mustang is a destination for both external and internal tourists. Owing to the development in the road network from Jomsom to Upper Mustang, the number of tourist flow in the region has increased greatly. Especially in October, this place is worth visiting. The name Mustang is in your list of memories. The accessibility of Raod, Flight, and trek with trans Himalayan Geography and Mountains, ancient Buddhism culture, and Muktinath Temple makes Mustang The best place to travel in Nepal.
The lifestyle of the people in Mustang is different. Even after the advent of a republic in the country, the Mustang king's honor and respect are still there. Mostly Buddhist residents', art and traditional practices, is truly beautiful. Natural caves, unique culture, lifestyle, charming natural sceneries, and Korola border along with Kaligandaki corridor are famous.
How to reach Mustang?
You can reach Upper Mustang by private vehicle from Kathmandu. Also, you can also travel by air from Kathmandu to Jomsom. You have to travel by jeep from Jomsom to Chusang. As there is no motorable bridge in the river, the Upper Mustang can be reached in 6 hours by crossing the bridge on foot. The sceneries and cultural experiences on the Mustang trip is something that you shouldn't miss. Mustang is truly one of the best 10 places in Nepal, that you cannot miss
7. Khaptad: Best Place to for Nature
Khaptad is a unique gift from our mother nature, which makes one the best place to travel in Nepal. The area is covered in greenery in the spring, while it is beautifully overlayed with snow in winter, generally after December. Furthermore, from April to June, the colorful flowers make the beautiful fields look like a huge carpet of greenery. That is to say, the main feature of Khaptad is the colorful flowers that bloom in the vast and rich fields.
How to reach Khaptad?
Looking at the beautiful garden with trees on the edge of the fields, one can see the unique journalism of nature. On the contrary, there are religious places like Khaptad Baba Kuti (hermitage of Khaptad Baba), Triveni River, Khaptad Daha, Shiva Temple, Sahastra Linga, Ganesh Sthan, Naagdhunga, Kedardhunga which has made Khaptad region very famous. Furthermore, The 22 fields in the Khaptad region, big and small, are also a center of attraction.
Firstly, to reach Khaptad, one has to travel 650 kilometers by bus from Kathmandu to Dhangadhi, Kailali district. One can catch a flight to Dhangadhi from Kathmandu too. Afterward, you should then take 8 hours bus ride from Dhangadhi to Silgadhi, Doti. Starting from Silgadhi, you can be reached Jhigran on the first day and Triveni temple in Khaptad National Park on the second day. Khaptad trip generally requires 8 to 10 days. So, Out of the 10 best places to visit in Nepal, you should not miss Khaptad. In short, if you like peace and Nature there is no other like Khaptad. Khapad National Park is one best place to travel in Nepal
6. Annapurna Trail: Best Place for Easy Trekking
One of the most popular trekking routes in the world, Annapurna trail welcomes you on an adventure of a lifetime. This trekking route is a favorite of most tourists from around the world. It is well renowned all over the world.
Lamjung valley is the entrance to the Annapurna Trek route. Passing through Besisahar, Khudi, Bhulbhule, Syange, Jagat, Manang Taal, Bagarchhap, Chame, and Thorangpass, on reaching Manang the path is completed. There are well-developed tea houses and hotels in the area, so there is no problem with accommodation to the tourists. In places, it is easy to get rid of fatigue, enjoying the pristine natural sceneries. Voted by the world as one of the best, you should definitely not miss Annapurna Trail as it is one of the 10 best places in Nepal.
How to reach Annapurna and Poon Hill?
From Pokhara, you can either take a four hours bus ride to Kimchi or take a jeep to Nayapul and then Tikhedhung, Ulleri to Ghandruk. From there you can start your trek weather to Poon Hill, Mohare Danda or Ghandruk.
5. Poon Hill Trek and Pokhara: Best Place for Adventure Sports
Witnessing the seventh highest peak in front of the eyes, there wouldn't be any mortal amazed. Hence, the tourists reach Poon Hill to witness the Dhaulagiri Mountain. Walking for about half hours uphill Ghorepani, Poon Hill can be reached. It is the best location to watch Dhaulagiri. Most of the tourists coming to Nepal include Poon Hill in their traveling list.
There are two options in the Poon Hill Trek, one; you reach Poon Hill and return two; you trek to Annapurna Base Camp through Poon Hill. It is best to set 5 days for the trip to and from Poon Hill. On the first day, you can reach Tikhedunga and on the second day, you reach Ghorepani. Accordingly, on the third day, you can watch the sunrise from Ghorepani, travel to Poon Hill, and return to Ghorepani. Then, on the fourth day, you reach Ghandruk and on the fifth day, you finally reach Pokhara. Additionally, it is best to take 11 days treks to Annapurna Base Camp via Poon Hill or Short ABC Trekking of 5 Days from Pokhara. Even you can visit the Mohare Danda from Poon Hill.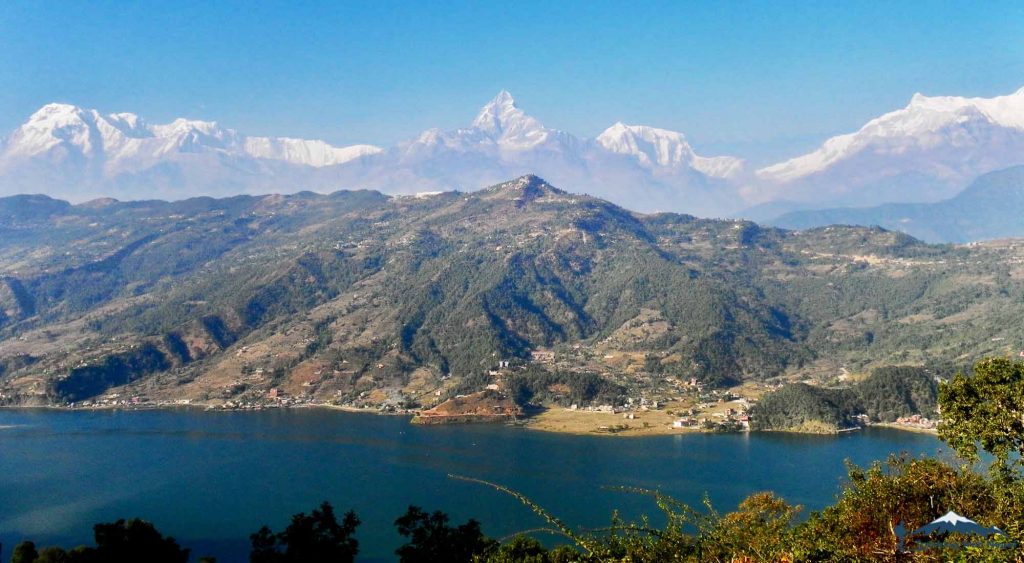 Pokhara is basically a tourist capital of the country. Lakes, mountains, temples and caves, all can be observed in the same small place. Apart from this, dozens of other adventure sports are popular such as bungee, zip flier, paragliding, rafting, etc. Also, Pokhara is an entry point for many important trekking routes of Nepal. Hence, tourist capital, Pokhara is a city you shouldn't miss in Nepal.
How to reach Pokhara and Poon Hill: The best place to visit in Nepal?
You can take a bus ride from Kathmandu or you can take a direct flight from Kathmandu to Pokhara airport. From there you can travel to different routes of your trekking plan. Even if you are looking for relaxing days in Pokhara, Short Poon Hill Trek can be cone in 2 days, which makes one the best place to travel in Nepal.
4. Rara Lake: Biggest Lake and Geographical Beauty of Nepal
Rara Lake is the largest lake in Nepal. It is one of the places that even a Nepali traveler won't want to miss. Rara Lake is located at an altitude of 2990 meters above sea level. Surrounded by forest, this epic natural lake changes its color according to the rays of the sun. Furthermore, snow trout, a species of fish is found nowhere in the world. Rara Lake is one best place to travel in Nepal even on motorcycle tour.
Most importantly, the best place to watch this magnificent lake is Murmu Top, located at an altitude of 4000 meters. This place is worth your time and interest. Recently, motorcycle trips are popular with tourists.
How to reach Rara?
You can take a bus or flight from Kathmandu to Surkhet. From there, you can take a 50-minute flight to Talcha Airport of Mugu. You can reach Rara lake after a 3 hours walk from Talcha Airport. Besides, you can reach Rara from Surkhet. After a two days bus journey from Surkhet, Gamghadi can be reached. From there, it's a three-hour walk to Rara.
3. Pathivara: Best Place for Religious Trips
Located in Taplejung district, Pathivara is one of the most religious sites for both Nepalese and Indian tourists. Millions of devotees visit this temple yearly. Pathivara temple is located at an elevation of 3794 meters from sea level. Furthermore, it is also the best spot to observe the Kumbhakarna Himal. The perfect time to visit the Pathivara temple is the month of October-November as the climate is clean at the time. So, witnessing the great landscape and getting blessed by the Mother Goddess, The Pathivara Temple is a place that you should not miss.
How to reach Pathivara?
The tourists traveling from Kathmandu can reach Pathivara through the tea plantation of Illam. Ilam is also a great place for tourists. Accordingly, you can observe the green hills full of tea plants and get to taste the authentic taste of freshly grown tea. Similarly, Pathivara can be reached by air from Kathmandu to Suketar and then on foot for 6 hours. Alternatively, you can also take a two-day bus ride from Kathmandu to Fedi and from there you can take 5 hours trek.
2. Bardia National Park: Center of Wild Nature and Activities
Bardia National Park is the largest national park in the Terai region of our country. Basically, spread over 968 square kilometres, this park is most suitable for Tiger Safari. It has some rare and endangered species of animals, so it may be a place that you do not want to miss. The park has 54 species of mammals, 400 species of birds, 25 species of reptiles and more than 60 species of fish.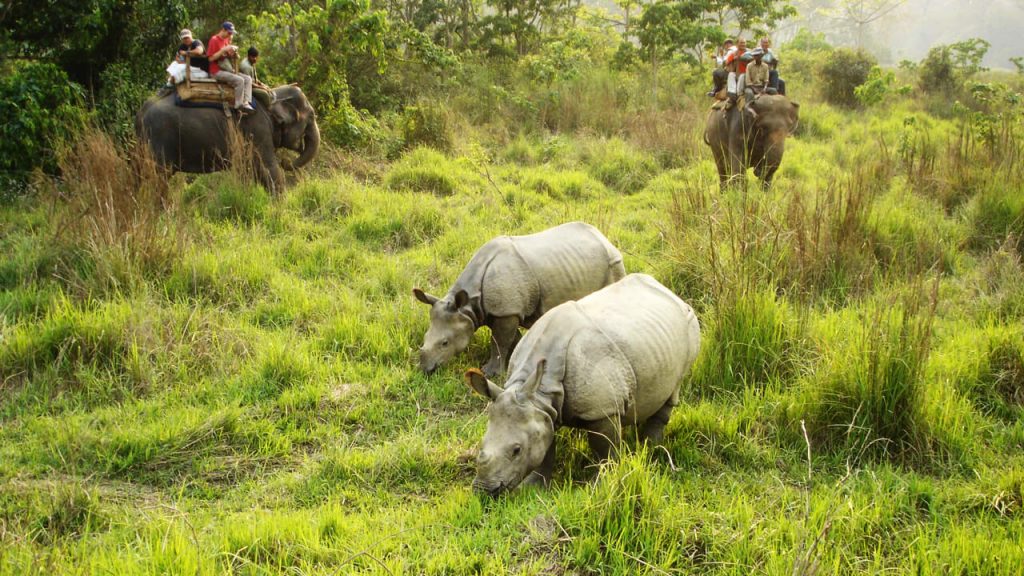 Additionally, Sal and its tributary vegetation covers about 70 percent of the park's land . The remaining 30 percent is grassland. On the other hand, Bardia is not only popular for the flora and fauna, but also for the original culture of the Tharu community.
The homestay opened in Bhadagaun of Bardia and the Thakurdwara Temple near the national park is famous for the internal as well as external tourists. Furthermore, the Thakurdwara temple is considered one of the most important religious sites in the Midwest. There are Lichhavi idols, considered very old and historical, in the temple.
How to reach Bardia?
You can take a bus or flight from Kathmandu to Nepalgunj. From there, it is a two hours bus ride to the Park. It is just 13 kilometers away from Ambas, located on the east-west highway.
1. Everest: One of The Best Trekking Trail of The World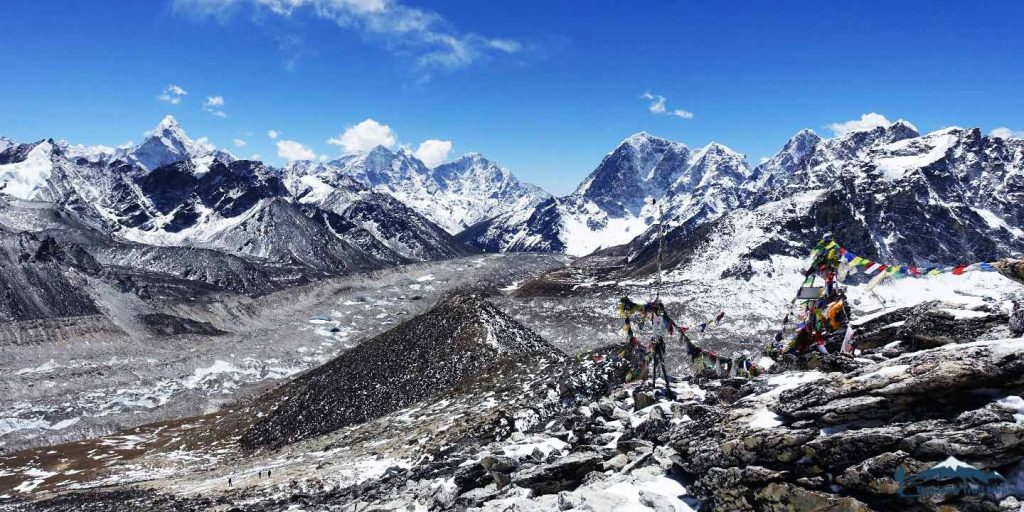 No doubt the world Highest Mountian is also in the top position of the best places to travel in Nepal. Everest, One of the major choices of tourists in Nepal. As a matter of fact, thousands of tourists visit this place yearly. Some come here for the Everest climb while others reach the Everest base camp and return. Due to the inflow of lots of tourists, this place has increased its fame further. In Everest Trekking, you will also explore the world highest airstrips and Hotel, the most dangerous airport. In addition, you can explore the most Iconic peak Mt. Ama Dablam and its Base Camp.
There are various routes within the Everest region. But, to watch Everest in front of the eyes, Kalapathhar is the best place, which is situated at the elevation of 5,555m. Also, a 360-degree view of Himalayas can be observed from Kala Patthar. On the other hand, the tourists are amazed and at the same time confused (not knowing their names) on witnessing such many mountains in front of their eyes. So, you should not miss Everest as it is one of the 10 best places in Nepal on your travel list.
How to reach Everest and Base Camp?
Flight from Kathmandu to Lukla, and then on foot to the base camp. For a longer trek, you can start from Jiri or Salleri.
On 24 June 2020, the lonely planet published the list of 10 the Best Trek in The world and Everest Base Camp Trekking Trail of Nepal in the 4th position. This pushes us to list Everest on the top position of the best place to travel in Nepal.

Everest Base Camp Trek on of the best Trek of the world as Lonely Planet.
Do you agree with Trekking Trail Nepal list of 10 Best places to travel in Nepal? If you find your destination in the list, Plan now on Coronavirus time and get the best natural with peaceful adventure. If you think another destination deserve in this list of the best place to travel in Nepal, Please comments your views and opinion below,