Luxury Trek! Luxury Trekking in the Himalayas!! These surprising replies need details to answer so here Trekking Trail Nepal comes with meaning and differences to answer What is Luxury Trek?
Mountains, Adventure, and Trek are the relative terms. The Himalayas is the most attractive region for the best Trekking. Above all, Luxury Nepal Trekking is one division that you can experience Mountains, adventure, Culture, and Traditions with a family with ultimate comfort.  Here we are showing the actual difference between standard trekking and luxury trekking. In short, Transportation, Hotel and Accommodation, Meals, snacks, and drinks are the major terms that distinguish for What is Luxury Trekking in Nepal.
What is Luxury Trekking in Nepal
Any trekking in Nepal doing by using comfortable transportation, 5-star hotels or luxury mountain resorts accommodation, unlimited food and drinks use of all available amenities with personal care is Known as Luxury Trekking in Nepal. Regular flight, Heli-copters or 4WD, well known best hotel in cities and luxury lodges trekking trail, personal choice of food, drinks, and snacks with private assistance guide makes the remarkable differences in Luxury Trek. Furthermore, all these luxury trekking and tour in Nepal are private trips which are customizable as your personal needs and interest. In conclusion, Nepal Tour and Trek with the best available services and resources are called Luxury Trekking.
What makes Luxury Trek Difference to Others? Trekking Trail Nepal is showing the Differences between Standard and Luxury Trekking In Nepal.
Lodge Hotel and Accommodation for Luxury Trekking
The quality and Hotel and Lodges whether in cities or along the trekking trails are the major differences. Luxury Lodge also known as comfort lodge is used in trekking while 5-star chain hotel in cities is used in all Luxury Trekking. Only in this Comfort-Luxury lodge in trekking trail, you will find heated blankets. But in some circumstances, we use different categories of hotel and accommodation because of differences feature.
Like, we use 4-star Annapurna View Hotel rather than 5-star in our Dhampus Sarangkot Luxury Trek. The location, views from bed and hotel, nature and peaceful surroundings, and availability of outdoor adventure activities make differences here. Similarly, this also happens in Chitwan National Park as well as in Lumbini. However, we discuss with you before your Luxury Trekking in Nepal. However, in standard trekking in Nepal use, tourist standard to 3-star hotels in cities and normal tea-house or basic homestay use on mountain trekking.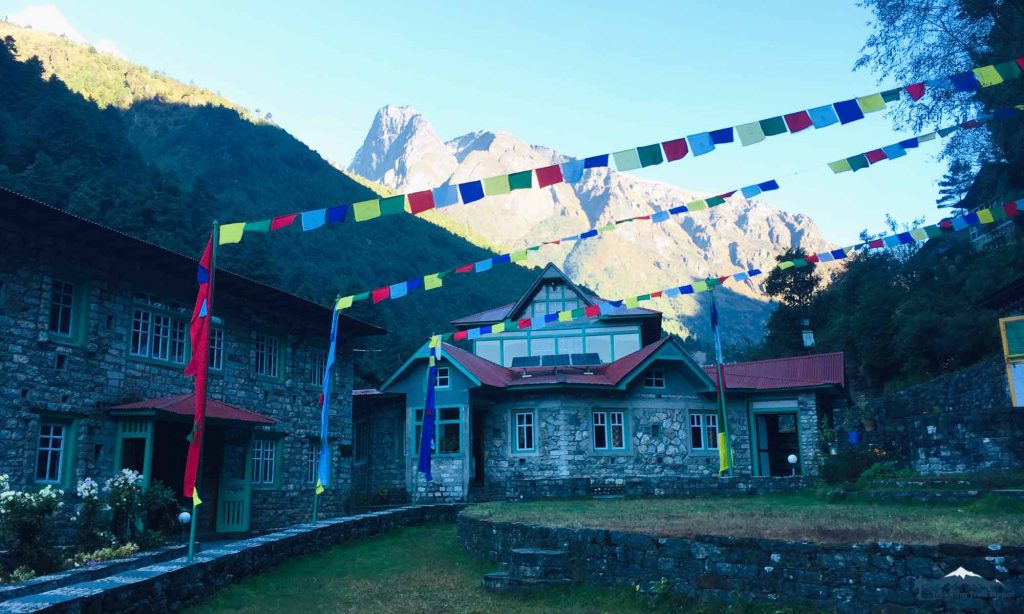 Means of Transportation for Luxury Trekking in Nepal
Easiest, Connivance, as well as comfortable means of Conveyance, will be used in all Luxury Trekking. Transportation is another important variant. Because private means of transportation are only used on all luxury trips, there is not a wide range. Charter helicopter is used for Mountain Luxury trips like in Everest Heli Trek. While regular or private flights are used for the intercity of Kathmandu Pokhara Chitwan and Lumbini. Similarly, 4 Wheeler vehicles like ATV and SUV are using for off-road drive tour. Sedan cars, comfortable jeeps, and van are used for sightseeing, city, and airport transfer.
NOTE: Horse ride and motorbike ride is available for your day tour in your Nepal luxury trek with Trekking Trail Nepal.
Meals, Snacks and Drinks in Luxury Trekking
An unlimited choice of food dishes will be serving in all sorts of Luxury Trekking in Nepal. Mostly we have buffet breakfast and dinner where you have multiple choice of cuisine. However we have Nepalese, Indian, Tibetan are popular but Italian and Mexican items will make the choice bigger. On the other hand, lunch will be from the open menu, since we have to eat somethings in between our trekking camps.
A 3-course meal will be serving in every dinner. Above all, you request your choice of taste to our chef or related hotel before table time.
From the drink prospective, Luxury Trekking and Tours also is one step further. Although alcoholic drinks are not good for Mountain Trekking and High Altitude Sickness we offer 1 Hot Rum Punch in our cozy leisure room before dinner time. Likewise, unlimited coffee, verities of tea, warm drinking water, lemon drinks and as on are available in our all luxury trekking, which you get in standard options.
Other Differences in Luxury Trekking in Nepal
Transportation, Lodge, and Food are major points that make a difference in Luxury Trekking in Nepal to standard. But with Trekking Trail Nepal you will get more features and services than anywhere else. With all Luxury Tours, Hiking, Biking, Sightseeing and Trekking you will get this extra. Here we are pointing out other differences in luxury trekking in Nepal. Fully equipped First Aid Kit. Personalized Duffle Bag, Sleeping Bag for entire trip duration. Customized Trekking Trail Nepal T-shirt, Personal oxygen Monitor, 24/7 doctor call support.
Also, Personalized Diet Plan to lose weight during the luxury trekking in Nepal, Blood Pressure Monitor and Diabetes Kit for your trip duration will make big differences. Note: Please Inform Trekking Trail Nepal what you need from our side to make your luxury trekking in Nepal the best.
Price of Luxury Trekking in Nepal
With special services and amenities, there is no doubt that the price of luxury trekking in Nepal is higher than normal. TRUE! Since, the cost of these luxury services is high, which makes luxury treks expensive.
Luxury Trekking package in Nepal is 2 to 4 times expensive in comparison to the standard package. This is to say, Luxury Treks in Nepal is not for everyone. But Trekking Trail Nepal provides the best-price Luxury lodges trekking in Nepal. With us, you will get all services and facilities we mention above but at a relatively lower price.
Check our 7 Best Selling Luxury Trekking In Nepal
1. Check out The Best Luxury Hiking in Kathmandu Valley
2. Luxury Everest Base Camp Trek
3. Annapurna Luxury Trek
4. Luxury Dhampus Sarangkot Trek
5. Luxury AmaDablam Base Camp Trek
6. Everest Comfort Trek
7. Luxury Everest View Trek
8. Nepal Luxury Tour. Check the Most Popular Luxury Treks in Nepal.
Do we hope now you have an answer to What is Luxury Trekking? If you need all these services Luxury Trekking in Nepal is for you. With Trekking Trail Nepal you can customize the services and Itinerary to fulfill the comfort needs to create private ultimate luxury trek.