The attractive Mountain Ama Dablam makes everyone WOW!!! So here Trekking Trail Nepal comes with details of Short AmaDablam Base Camp Trek. This new trekking route comes as alternative hiking to skip the overrated Everest Base Camp Trek. Original AmaDablma Base Camp Trek needs 11 days, while Short AmaDablam Base Camp Trek start as well ends in capital city Kathmandu. Ama Dablam Base Camp Trek is moderate trekking in the Everest national park. This is pretty much similar to the Everest View Trek but comes additional features of Base Camp.

Mount Ama Dablam is the most eye-catching mountain of Everest, Nepal. This is similar to Mount Matterhorn of the Swiss Alps but with the sky-touching height of 6,812 meters 22,349 feet. Even the lower peak on the western ridge goes up to 6,170 m. This is the technical mountains to climbs below 7000 meters, so the base camp was popular for climbers trekkers only. The scene change in the last couple of years, when a small lunch shop open at the Ama Dablam Base camp. Base camp at 4590 m only offers the food and drinks but it is enough with the peaceful High Himalayas Views.
If you are a dreamer of with Everest Himalayas, but not difficult as the Base Camp, Ama Dablam Base Camp is a perfect fit for you. Above all AmaDablam Base Camp Trek doesn't exceed the 4500-meter altitude, yet you perceive adventure of Mt. Everest and nearby highest mountains.
Meaning of Ama Dablam
You can see, it is the mix of two worlds: Ama and Dablam. Separately these both words have meaning in Nepalese as well as Sherpa language. Ama stands for Mother and Dablam Stands for Necklace. Symbolically the hanging permanent bluish glacier symbolizes the Necklace as it wears by local sherpa women.
Is AmaDablam Base Camp Trek Special?
You may have questions about why AmaDablam Base Camp Trek like that? What makes Ama Dablam so special? This trekking route to Amadablam base follows the original trail of Everest Base Camp Trek till Pangboche Village. Afterward, the trail splits and we hike to Ama Damlam crossing Imaj River and old yak herds. Originally this route is popular among the climbers since Ama Dablam is one of the most popular technical climbing in Nepal limits to 7000 m. However, every trekker is not happy with Ama Dablam Trekking. Some of them have different feedback.
As their recommendation, It is worth to do Everest Heli Trek with extraa bucks than Ama Dablam Base Camp Trekking. As we know every mountain has its own features and attractions as our expectations. Although, Amadablam is beautiful but not the highest mountains which lacks the attention of general people. However, This Short Ama Dablam Base camp Trekking is the best for Himalayas peace lovers.
Ama Dablam Trekking Trail
Let's talk about Short Ama Dablam Trekking Trails and features adjoint with hiking route. The whole trail from Lukla to Pangboche is full of cultural as well as natural wonders. Highland lifestyle, Sherpa culture, Tibetan Buddhism stupas, Monasteries with colorful flags, prayers wheel, and Chorten decorate the trekking trail. Similarly, the highest Himalayas, viewpoints, hanging high bridges over roaring rivers colorful roofs of villages make the memories of a lifetime. The complete route of Ama Dablam Base Camp Trek is inside Sagarmatha ( Everest) National Park, except the part between Lukla to Monjo. Continuous flows of trekkers, guides, trekking porters, locals along with carrier Yaks, and donkeys even makes the trail alive. The last part trail between AmaDablam base camp and Pangboche comes with the most peaceful Himalayas Nature across the Imja River.
No doubt photos and movies speak millions of words, So here Trekking Trail Nepal tries to describing AmaDablam Base Camp Trek with Pictures and Videos combining with trails. We hope, with the above words with visual contents describe the Ama Dablam Trekking trail effectively. In short Ama Dablam Trekking Trail and Route to Base camp is full of Natural, Cultural, and Adventurous features.
Mountains and Highlights of AmaDablam Base Camp Trek
– Majestic Himalayas Views including world highest mountains Everest and Lhotse.
– Short, Moderate, and New trek that is believed as one of Nepal's Greatest trek.
– Monasteries of Khumjung, Tengboche, and Pangboche are Beautiful, Biggest and Oldest represent the cultural and religious value to Sherpa people.
– The best trekking trail to the most glamorous and iconic mountain of the Everest region, Nepal. The best one-day hiking trip to the most picturesque Ama Dablam Base Camp.
– The Village of Namche is the biggest in Khumbu. This is also known as the commercial capital of Everest.
– The highland and local Sherpas people and their authentic culture, custom, and living way is another attraction of Ama Dablam Base Camp Trek.
Not Only the Iconic Mount Ama Dablam but the other 2 eight thousand meter high peaks Mt. Everest, Its neighboring Lhotse comes in your visual. Similarly, Kangtega, Thamserku, Nuptse, Kusumkanguru, KhumbiLa, Dorje Lakpa, Lobuche, Numbur, Cholatse, Tabochu, Kongde range makes Ama Dablam Trek more adventurous. In the same vein, the spring months of March-April blooming rhododendron add the contracts to your picture. This National flowers forest will keep you in shade for resting moments, which is one attraction of Ama Dablam Base Camp Trek.
Short AmaDablam Base Camp Trek Accommodation and Food
The accommodation along the AmaDablam Base Camp Trekking route is the best among other trekking in Nepal. All the basis standard tea house comes with twin comfy beds, light blanket, and pillow. The restaurant offers a range of fresh and handmade food and drinks. Comfort lodge and residence are available even with Luxury Ama Dablam Trek package.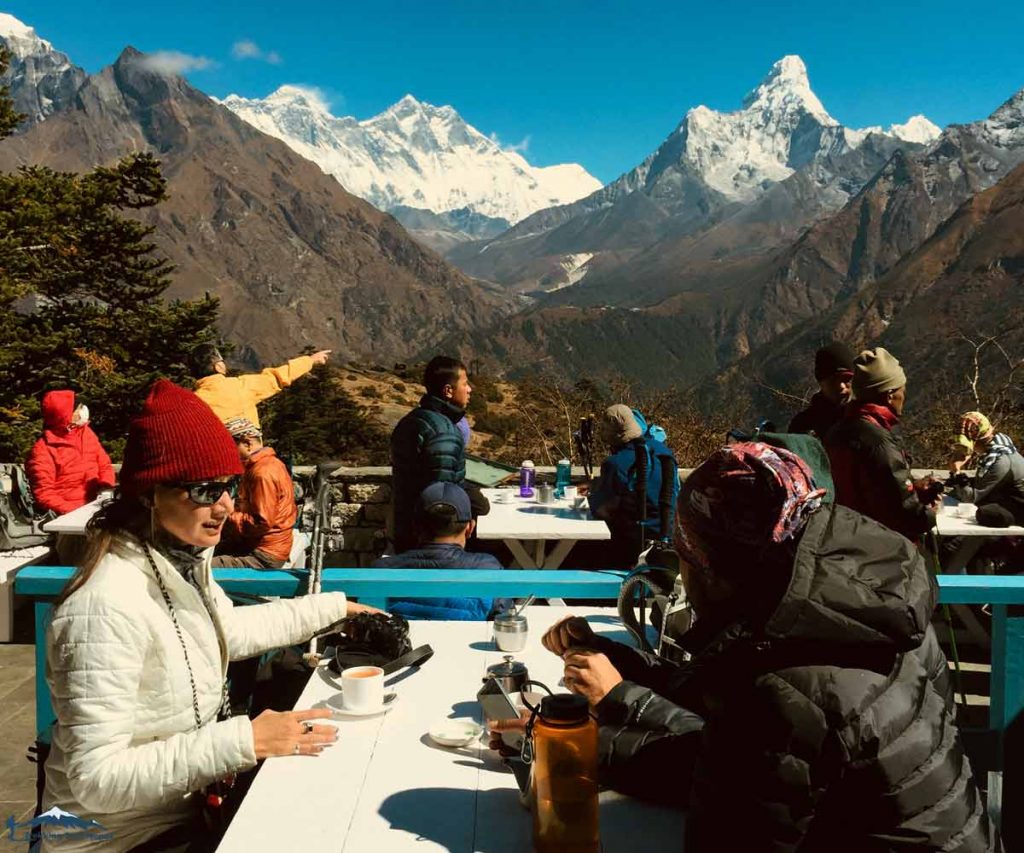 Why AmaDablam Trekking Trail in Nepal?
Trekking Trail Nepal organizes all sorts of Himalayas Trekking in Nepal. All our services come with verities of accommodation and lead by experienced local guides and supporters. Above all, Zero Rescue, and 100% Success Rate make Trekking Trail Nepal a Leader among Responsible Trekking Company in Nepal. Do you like the Short Ama Dablam Base Camp Trek Itinerary? Check it once, If you need a full day to a day program in detail, Say us Hello with the below form. If you are a luxury adventurer check our 11 Days Ama Dablam Base Camp Trek, if you need Luxury, write us.
Short Ama Dablam Base Camp Itinerary – 8 Days
Day 01: Kathmandu Lukla flight and trek to Phakding 2,652 m 3 hours trek. The Shortest day of AmaDablma Base Camp Trek may take more time with depends weather.
Day 02: Namche Bazaar 3,443 which is about 5-6 hours trek. One of the toughest hike of AmaDamlam Trek. Besides, you will be reward with the first glimpse of Mt. Everest.
Day 03: Rest day does not come easy. Today we do acclimatization hike to Everest View Hotel as Everest View Trek 3,880 m. But we will explore, Namche, Khumjung Village, and National Park Museum too.
Day 04: Trek to Pangboche via Tengboche Monastery 3,868 m and Debuche 7-8 hours trek. From today you will be in completely inside the Himalayas. The trekking trail comes with ups, downs, and flat. Above all the close view of Kangtega, Thamserku and AmaDablam refill your energy.
Day 05: Trek to Ama Dablam Base Camp and Back to Debuche. This is the most important day of our Itinerary. You are going to reach the highest altitude of the trek. Besides the closeness to the most beautiful mountain stands just in front of you. Similarly, we start the hike down towards Debuche following the same trail.
Day 06: Trek back to Jorsalle 9 Hours hours trek. Back trek down to Jorsalle, with the perfect lunch at Namche.
Day 07: Similarly, trek back down to Lukla 6-7 hours trek. Short Ama Dablam Base Camp Trek part comes to end here at Lukla.
Day 08: Morning starts with the short takeoff through the world's deadliest airport, The Lukla Airport. You will have a free day in Kathmandu to enjoy your personal interest.
Ama Dablam Base Camp Trekking Video Itinerary
Conclusion: Ama Dablam Base Camp Trekking
Join us on our social media platforms; Instagram, LinkedIn, Facebook, and Twitter for recent posts and updates on Short AmaDablam Base Camp Trek. If you have any queries please feel comfortable to comment and share your thought about Ama Dablam Base Camp Trekking in Nepal.