Baglung: A District of Nepal located in the lap of Mt. Dhaulagiri next to Kaligandaki Gorge. The Baglung Hiking Biking and Home Stay trip with a social volunteer is the new rural village holiday travel experience from Trekking Trail Nepal.
Not as all the other trekking, village tours, and volunteer holidays in Nepal, We make this Baglung Adventure make simple as possible. In short, Not Customized Package, No added tourist attraction, NO added facilities, Even Not Commercial Accommodation and Meals. Don't Worry! Baglung Hiking Tour with Homestay accommodation with Volunteering is not as bad as you think. We care about everything you need like, Friendly local Hike and Bike guide, clean and comfortable homestay with Hygienic traditional food, good volunteer place.
Baglung!!! Let Know More about Baglung
Baglung is a district in the Western Development Region of Nepal, In the Gandaki Province. It is the Zonal Headquarter of Dhaulagiri Zone too, in the lap of Mount Dhaulagiri 8,176 m. Baglung is also known as small Nepal inside of Nepal since the map looks similar to Nepal. However, here we are talking about Baglung Municipality. All our Hiking, Biking, Home Stay experience even Volunteering project will happen inside Baglung Municipality.
Small Nepal, Baglung called the district of Suspension Bridges. It has the largest number of bridges in comparison to any other district in the whole damn country. Additionally, Baglung is the largest producer of hemp seeds ( Weed Seed) in Nepal. This might attract your interest for this Baglung Hiking Biking Homestay with Volunteering package. However, we use it as Herbs and Spices especially for pickle, sauce as well tidbits.
Let's talk about the Baglung Bazar, Baglung Municipality as it's surrounding. The town of Baglung is on the plateau overlooking Gorge of Kali Gandaki and Kathe Khola east to south. World sixth highest mountain Dhaulagiri with its range lies on the North and visible from any part of town. No matter the winter of January February or summer of April May. Being lies in the mid hilly region, the temperature is best thought year. Likewise, being in the center of Nepal, Baglung also gets blessed even with Monsoon. Since monsoon rain starts from east Nepal and reaches the west, Baglung gets average Rainfall, neither as east nor as west.
Here is the figure of Temperature and Rainfall of Baglung
As another part of Nepal, Baglung gets rainfall in the monsoon season in the month of June, July, and August. As the effects of Global Warming, Climate Change, and late-season rainfall are experiencing till mid of September from the last few years. Other months from September to May is mild hot summer and warm sunny winters. All these proof Baglung is Perfect for Hike, Bike, Volunteering for all season, and months of the year. You are not close to the Himalayas to experience the snow you need to hike about 3-4 hours even in winter. But you will the Mountain Ranges of Dhaulagiri mostly and Annapurna just with 1 hours hike.
Let's talk about the people, culture, and Religion of Baglung. Despite being in the center of Hindu pilgrimage sites next to holy River Kaligandaki, Baglung is also the land for Buddhist, Islam as well as Christianity. The majority of people follow the Hindu religion, especially from the ethnic groups of Bharamin, Chhetri, and Magar. The mix of Hinduism and Buddhism is active in people of Newar, Gurung, Thakali as will Tibetan Bhots. All these people have their own culture, language, traditions, even way of lifestyle, and rituals. However, the Nepali language is widely used for communication in the Baglung district as in Nepal.
Summer Average Temperature: 17.3 °C to 27.6 °C, Max in History 35.9 °C.
Winter Average Temperature: 2.3 °C to 18.1 °C, Min in History 0.9 °C
Annual Average Rainfall is 1062.1 ml, Max 1362 ml.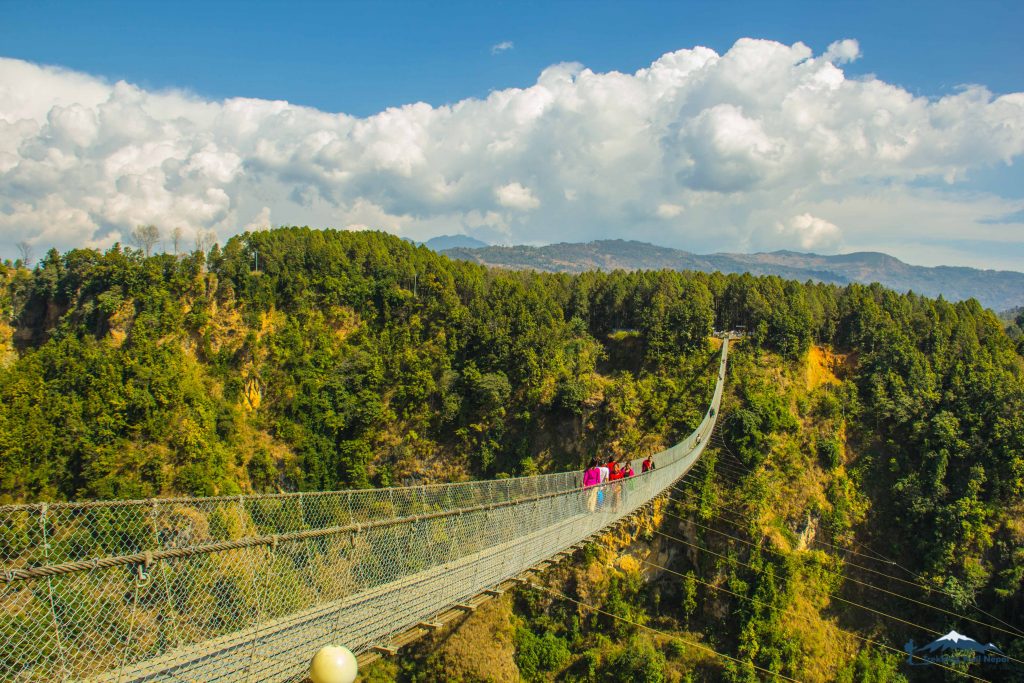 Facts of Baglung District
Currently, Baglung is the district with the largest amount of remittance of income.
Not links to Terai Plains which block the hot air of low land of Nepal even in summer.
Not in Direct touch of Himalayas make warm even in winter. Above the turning and deep Kaligandaki River Gorge work as Air Conditioner Chamber.
The Map of Nepal and the Baglung District is similar to the shape.
Baglung is in the middle of Mt. Dhauligiri and Lumbini; Birthplace of Siddhartha Gautam Buddha.
The Largest producer of Bhango ( Hemp Seed ) also known as cannabis seed.
How To Reach Baglung for Hiking, Biking and Homestay
Pokhara, the provincial capital is the nearest big city with regular flight connections to Kathmandu, Chitwan, Lumbini, and Jomsom. Although, Baglung lies in the center of Nepal but have few road connection as other cities. We are mention here some highway, road network with the distance that helps you reach Baglung for hiking and biking.
| | | | |
| --- | --- | --- | --- |
| High Way | Distance | Highway Connection | NOTE |
| Kathmandu To Baglung | 274 KM | Tribhuvan Highway + Prithivi Highway + Pokhara Baglung Highway | |
| Pokhara To Baglung | 72 KM | Pokhara Baglung Highway | |
| Lumbinin To Baglung | 296 KM | Mahendra Highway + Narayanghat Mugling Highway + Prithivi Highway +Pokhara Baglung Highway | |
| Butwal To Baglung | 178 KM | Siddharth Highway + Pokhara Baglung Highway | |
| Chitwan To Baglung | 203 KM | Narayanghat Mugling Highway + Prithivi Highway +Pokhara Baglung Highway | |
| Rolpa To Baglung | 121 KM | Rolpa Burtibang Rad – Baglung Burtibang Mid Highway | |
| Jomsom To Baglung | 92 KM | Mal Dhunga Beni Road + Beni Jomsom Road | |
| Dhorpatan Hunting Reserve To Baglung | 67 KM | Baglung Burtibang Mid Highway | |
| Korola ( Tibet Border ) To Baglung | 165 KM | Kaligandaki Corridor | Border is not Open |
| Burtibang To Baglung | 103 KM | Baglung Burtibang Mid Highway | |
| Nawalparasi To Baglung | 139 KM | Kaligandaki Corridor | Work in Progress |
Highway and Road Links to Reach Baglung and Distance
Things To Do and Attraction Around Baglung are Hiking, Biking and Village Walk
The city of Baglung not only historically important But also has beautiful gifts of nature. Baglung has lots of things to do for tourists and attractions. No limits to Nepalese tourists, international trekkers, hikers, bikers, and adventure seekers also like Attraction of Baglung and around this. Here Trekking Trail Nepal try to list 7 popular Attraction and Things To do in Baglung. This will help you to choose and create your one Explore Baglung Trekking Package.
Kalika Bhagwati Temple – Hindu Temple aka Kalika Mandir. Lies on the gorge hill island deep inside the dense forest between Kaligandaki River and Kathe Khola. Temple and its religious value will not be important for this Baglung Hike Bike Homestay and Volunteer Package, But Nature, Viewpoint, and Charm will definitely stunt you.
Panchakot Dham – A Hindu Temple with the viewpoint of Himalayas.
Dhorpatan Hunting Reserve – One and Only Hunting Reserve of Nepal
River rafting in Kaligandaki – Religious Important River with gold shiny sands
Bunjee, Swing, High Bridges, Cable Bridges, Cliff Swing, and many more.
Traditional Homestay of Bhakunde and its Viewpoint tower
Similarly, the viewpoint of Sansarkot and Sansarkot – From where You will see Annapurna and Dhaulagiri Himalayas Range.
Gupteshower Cave, Buddhist Monastery, and Buddhist Gompa are other attractions for this Baglung Hike, Bike Trip.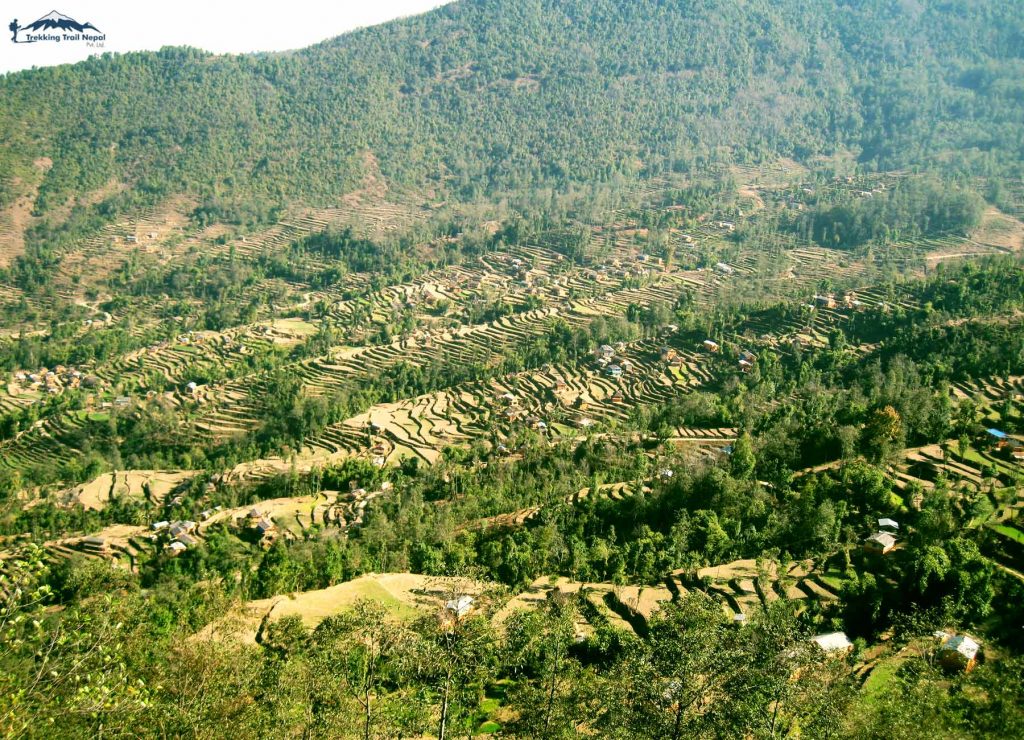 Baglung Hiking Biking and Volunteering Itinerary
Day 1: Arrive in Baglung, Meet local guide and trip briefing of Baglung Hiking Motor Bike Home Stay with Volunteering
Trekking Trail Nepal local guide will welcome you at Bus Terminal for Baglung Hiking Biking Home Stay with Volunteering package. Over the coffee, we will discuss the procedure and planning. Our local guide from Baglung will try his best to cover all in Bering. If you have any last minutes questions or queries you can rise here too.
After coffee, you will hike about 30 minutes or 10 minutes motorbike ride to reach Home Stay. With the introduction with all family members, rules, direction, and notes the first-day job of the guide is come to end. However, your real adventure of Baglung Hiking Biking Homestay with the Volunteering Program starts.
Later on, take rest in your private room or enjoy a hot shower. But we request you to explore around visit water buffalo milking, play with dog, help in kitchen or garden. This is how the first day of Baglung Hiking comes to end.

NOTE: For the better experience we suggest you to arrive before noon, Not later than 15:00.
This helps us to introduced all team and friends over coffee of Baglung Hiking Bike Home Stay with Volunteering.
Day 2: Visit of School, Meet school staffs and kids
Today we will discuss your volunteering program with the school team. As your Knowledge, Arts, and Experience we request a time for students. In your time you can teach, share, and practices your arts, Knowledge even trick or learning methods. Later on, we say goodbye to the school for the day. Our Baglung Guide will start our hike towards the Hill station of Bhakunde. Which lies on the hilltop in the south of Baglung Bazar.
Bhakunde offers modern homestay accommodation for our night. But we are here for Himalayas view, sunset and sunrise. You will see the Baglung as in areal view along with river gorge, Green hills majestic Himalayas.
NOTE: Even, If you are interested long volunteering program in Baglung Trekking Trail Nepal will assist you. We can organize Baglung Volunteer Options in School, Hospital, Child Care, Rafting Center, Agriculture farm, Monasteries even in Bungee Center next to the High Bridge of Kusma.
Above all, If you are interested in longer Volunteering Program Today we will confirm with School.
We must share with school follows for your Baglung School Voluntree program
What Is Experience
What you Can Teach
How long you will support school
What you expect
Day 3: Bhakunde View Point, Bhairabthan, Balewa, High Bridges of Kusma and Bunjee Jump. Lastly we reach Baglung Homestay.
Early morning work up and hike about 45 minutes towards the View tower. Later with a small breakfast, we continue hiking to Bhairabthan, Balewa and reach Kusma. We cross the River Kaligandaki with a Cable bridge and experience the 3 High Bridge that links Parbat and Baglung District.
As your interest, you can enjoy the world's second-highest bungee jump, Cliff swing, sky cycling too. With lunch overseeing the adventurous High bridge, we continue our way to Baglung Home Stay.
Day 4: Motor Bike, Sunrise, and Himalayas view form Panchakot Hill, Kalika Temple, Old town of Baglung, and High Bridge.
We start our fourth day of Baglung Hike Bike Homestay with Volunteer package early morning before sunrise. This is the big day in this 5-day Baglung Trip. After a cup of Organic Home Made Coffee with buffalo milk, we head towards the Panchakot. It is about 2 hours of hiking distance, so we take you there with Motor Bike Ride. But on a motor bike, it takes only 30 Minutes.
Panchakot
Panchakot is the Hilltop just above of Baglung Valley on the North, elevated at 1855 meters above sea level. This is a Sanskrit word. If we divide this Pancha means Five and Kot means Hill Top.
Rising almost touching the sky, the viewpoint of Panchakot is the best, easy one for spectacular Himalayas view. You will see many mountain peaks from Dhaulagiri Himalayas Range and Annapurna Himalayas Range. Most importantly, The sixth highest mountain of the World Mt. Dhaulagiri with a hight of 8,167 meters is a major attraction. Furthermore, other peaks like Dhaulagiri 2, 3, 4, Tukuche Peak, Gurja Peak, Nilgiri south, Annapurna south, Fung, Macchapuchre, Himchuli are visible from PanchaKot.
In addition, this is a new rising Hindu Religious Site. The views of 5 religious important Green hills and Himalayas, 5 different GHAT on River Kaligandaki and 5 Village increase the value of Panchakot. The Hindu Temple, Mirror temple, Statue of creatures, meditation center make Panchakot one Tourist Attraction of Baglung.
After views and exploration, we continue our ride towards Baglung Homestay for a good breakfast. Similarly, we continue our Baglung Hike Bike Trip towards the exploration of High Bridge of Baglung, Old Town of Baglung, Kalika Temple too. If the time limits we definitely take you to the biggest stone temple of Galeshower. This Hindu temple of Lord Shiva, On the way to Upper Mustang, which is about 22 Kilometer far from Baglung.
Our Trip concludes here for day 4 of Baglung Hike, Bike, Homestay and Volunteer Trip. We will Spend our rest time with Homestay family.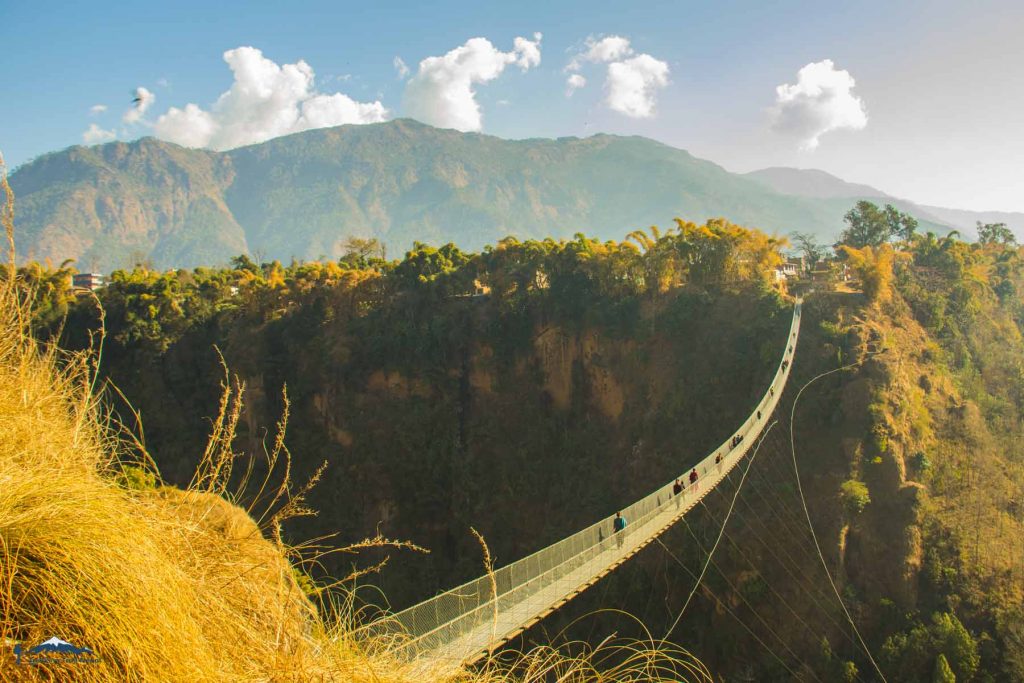 Day 5: End of Baglung Hike Bike Home Stay with Volunteering
Last day of 5 days Baglung Hiking Bike Homestay with Volunteering Package. Our day starts the Baglung Organic Home Made Coffee. Later on, we Rome around the local Homestay village, meet and greet local people, explore the commercial vegetable farms, a new school, hot spring water source. The fun and smiles to meet the kids of the local village is extra on this Baglung Hike and Bike Trip.
After traditional lunch with Home-stay family, Our Baglung Biking Hike Guide will drop you at the bus terminal, to Reach Pokhara.
This is How you end 5 Days Baglung Hiking Motor Biking Homestay and Volunteering Program with Trekking Trail Nepal.