Annapurna Base Camp Trek stands on the Top 10 Best Treks globally out of many top treks to do. Being a famous trek for its easiness, variety of trails, and pleasant weather, ABC Trekking for Nepali is one of the most popular choices.
Annapurna is the tenth highest mountain in the world and is popular for amazing trekking trails. Annapurna Base Camp elevates at 4,130 meters only, whereas the Annapurnapeak lies at 8,091 meters. It is the first eight-thousander to be summited; it opened the doors to the mountaineers to summit other mountains as well. Reports suggest that a trip to the Annapurna Region is on the bucket list of most travelers worldwide.
Why is ABC Trek for Nepali Is the best Nepal Trek?
ABC Trek has been one of the most elite Nepal trips because of all the good reasons. So, What makes ABC Trek a must-do trip in 2022? Let's dive deep into it.
The Biggest Trekking Region of Nepal
First things first, Annapurna Base Camp lies in the biggest trekking region of Nepal- Annapurna Conservation Area. Bigger the area, the more variant the bio-diversity is. It provides a big exposure to the environmental aspect of the trip. You get a variety of flora and fauna, and if you are lucky, you get to see the wildlife in their natural habitat. There are 128 species of wild mammals and 518 species of birds in the Annapurna Region. It will be no shock if you see a Red Panda having a good time there.
Variety of Trekking Trails
Another important point not to forget about the ABC Trek for Nepali is that you do not succumb to a single trekking trail. With different ABC Trek Nepali Packages, you get different itineraries and, more importantly, different trekking trails. For instance, Everest Base Camp Trek is all about going through the Khumbu Region. Meanwhile, ABC Trek is a gateway to a variety of trekking trails with different viewpoints. Annapurna View Trek and 7 Days ABC Trek are two different ABC Trek 2022 Packages giving you different ways to enjoy your trip. However, the sole motive of every trip is to enjoy your journey and time, which will be memorable for ages.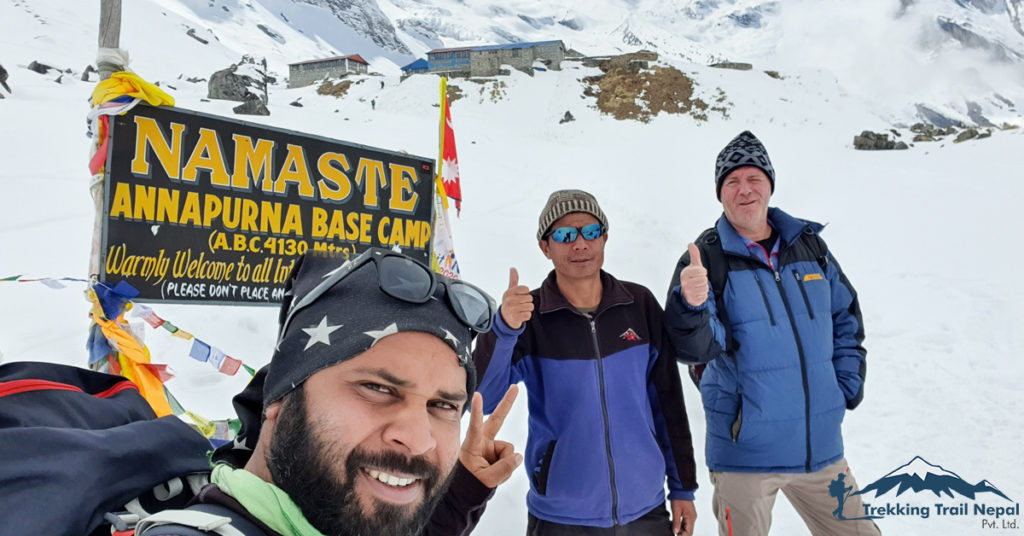 Know about people's cultures and lifestyles like never before
Diving deep into people's cultures and their lifestyles, you will be closer to the meaning of life. One has a different meaning of life than the other. The experiences you get to collect while getting on the ABC Trek Package will be with you all your life. It doesn't stop here. As more meaningful your ABC route map becomes, the more panoramic the mountain views become. It's all slowly giving your body's hold to Mother Nature. Forgetting every worry and just enjoying the moment is what every trip aspires to be, Right? And Annapurna Trek aspires to be that trip for you.
The basic yet best Annapurna Base Camp Trekking Package for Nepali is brought to you by Trekking Trail Nepal with a total cost of Rs 9,000 per person, Just come with a group of 7. The 5 Days short ABC Trek starts from Pokhara and ends in Pokhara. It is the best choice for people who want to enjoy trekking in the least of time possible. However, the fun you have on this trip will be unparalleled.
Annapurna Base Camp ( ABC ) Trekking Itinerary
Trekking Trail Nepal offers the best ABC Trek 5 Days Itinerary with the best guide for you. No matter you are a Nepali or a foreigner. We give you the best price and services as you are the best Nepalese Trekkers.
Day 1: Drive to Martkyu ( High Bridge ) from Pokhara (810m) and trek to Banuwa (2140m)
Day 2: Trek to Deaurali (3200m)
Day 3: Trek to ABC 4130m via MBC ( Machhapuchhre Base Camp) 3700m.
Day 4: Morning Exploration of Annapurna Base Camp (4130m) and back to Sinuwa.
Day 5: Trek to Jhinu Danda ( Hot Spring ) and to Martkyu and drive to Pokhara. On your request, we can customize and organize 6-7 days ABC Trek for Nepali even operating as private family trekking. We are just a call away.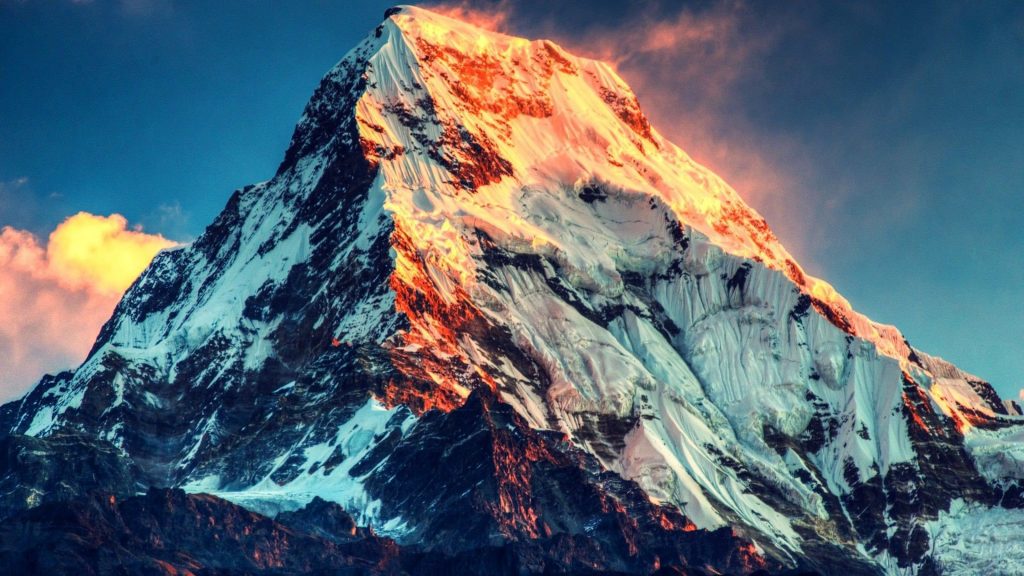 ABC Trekking cost for Nepali
Whenever you plan a trip, you need to focus on how much the trip cost. It helps you prepare for the long trip well and effectively. Most people who want to go on a trek to the ABC have questions regarding the total cost of the ABC Trek package. Many Nepalese have a question regarding how much ABC Trek costs for Nepali.
With Guide or Without Guide
ABC Trek for Nepali generally costs around Nrs 10000. Depending on the number of members in the group and season, the cost can fluctuate. If you are going to ABC Trip in the peak season, the price of some services can hike. Not to forget, the ABC Trek cost for Nepalese may vary with the trekking package you choose even the group size you are traveling with. The short 5 Days ABC Trek costs around Nrs 9000 for Nepalese, whereas Mohare Poon Hill Annapurna Base Camp Trek costs around Nrs11000 for Nepali.
Many travel enthusiasts suggest going on an ABC trek with a guide. The trekking guides are experienced professionals doing their job for a long time. They know mountains and trails better than you. You will get to know about every detail regarding the trip, mountains, and trails. More importantly, it is safest for you to go on a trip with a guide.
Talking about a recent incident that took place in Tilicho Lake, Manang. A group of friends went on the Tilicho trip, and what happened there was very heart-wrenching. A boy from the group died because of high-altitude sickness. They went on the trip without a guide. Not only a guide knows about the trails, but he also knows about the safety measures has done his homework and has prepared himself for the trip. The Annapurna Base Camp Trekking for Nepali is a great choice for most Nepalese travel enthusiasts. You get to see many Nepalese going on the trip and making videos about it on YouTube and Tiktok.

Trekking Trail Nepal recommended you to trek ABC with Guide.
The Best Safety Advice: Always go on the ABC Trek or any treks with a guide
The ABC Trek cost with a guide and without a guide differ in 2000-4000. But for safety and a more fun experience, a guide is a must. You may save a little money going on a trip without a guide, but with a guide, the possibilities are limitless. You not only get to learn but also prepare yourself for any other journey. So, whenever you plan a trip to the ABC, always make sure you go there with a guide. New places and new experiences need a navigator who will lead you in your journey. You want your new adventure to be remembered for ages for all good reasons, Right? Going on the trip with a guide is your first step in doing that.
Moreover, an experienced guide is always a good choice no matter where you are traveling to.
Annapurna Base Camp Trek Preparation | How to prepare for ABC Trek?
Talking about the climate and weather around the Annapurna Region, the weather there is not that extreme. However, being closer to the Himalayas, the coldness can go off the charts anytime. Moreover, walking for 5-6 hours every day can be a hard task for many people. So, proper preparation is a must. So, how to prepare for your next ABC Trek or any other trek?
The first thing you need to do is get an overall idea and knowledge about the place you are going to. It will prepare you for the place's climate, weather, terrains, and trails.
Here are a few other things that you can follow to prepare for your next Trek to the Himalayas, especially the ABC Region.
Do proper exercise daily.
Start walking now and focus on leg workouts
Research about your trek destination
Practice walking with your backpack with the weight
Know about the difficulty level of your trip
Learn to pace and slow down yourself
Invest in good pair of shoes and a backpack ( A backpack from NORDKAMM is a great choice for many travelers)
Learn to trek in any type of weather as you can't get perfect weather on all days of your ABC Trek
Last but not the least, choose the best trek planner (Trekking Trail are the best ABC Trek for Nepali Planners)
Always be consistent and motivated
All in all, Preparing for your next ABC Trek doesn't only mean improving your physicality, mentality, and knowledge. It's also about collecting important goods and trekking gear which would be handy during the journey.
Recommended Trekking Gear List for Annapurna Base Camp Trek for Nepali and Foreign Trekkers
Sleeping Bag
Trousers
T-Shirts
Wind stopper Jacket and Fleece Jacket
Neck Protection (Buff)
Trekking Pole
Water Bottle (Annapurna Conservation Area bans bottled drinking water. So, you need to refill it, and you can use water-purification tablets)
Sun Hat and Woolen Hat
Gloves and Sun-glasses
Innerwear
Few pairs of socks
Headlight
Trekking Shoes (Full ankle shoes recommended)
Moisturizing Cream
The guidelines and tips for preparing for ABC Trek are for everyone planning to come to the Himalayas anytime soon. Moreover, if you are coming on a trek to any part of Nepal or anywhere around the world, you can follow these tips. It is better to be prepared rather than have regrets because prevention is always better than cure.
Everest Base Camp Trek or Annapurna Base Camp Trekking for Nepali (Which one to choose?)
As you all know, Nepal is a trekker's paradise and is the gateway to some of the best treks in the world. Among many beautiful treks, the two most popular treks are Everest Base Camp Trek and ABC Trek. Most people have one of those treks on their bucket list. Both of the Nepal Treks are very popular and have everything to wow you with. However, there are some differences between ABC and EBC Trek.
Talking about the hiking duration in EBC Trek, you need to trek around 7-8 hours every day, whereas you need to trek around 5-6 hours if you are on ABC Trek.
The trekking trail in EBC Trek is around 150 kilometers, whereas an Annapurna Base Camp Trek distance is around 49 kilometers.
Everest Base Camp Trek is more difficult than a normal ABC Trek because of the longer route and climatic conditions. A person with beginner-level trekking experience can easily complete the ABC Trek, but it might be difficult for him to go on EBC Trek. But, with good preparation, it is possible.
Even though you go on any trek package around Everest, you need to go along the Khumbu Region and explore through it. However, various trekking packages around Annapurna Base Camp mean different trekking trails. Similarly, Ghorepani PoonHill Trek, Mohare Danda Trek, and ABC View Trek are some examples.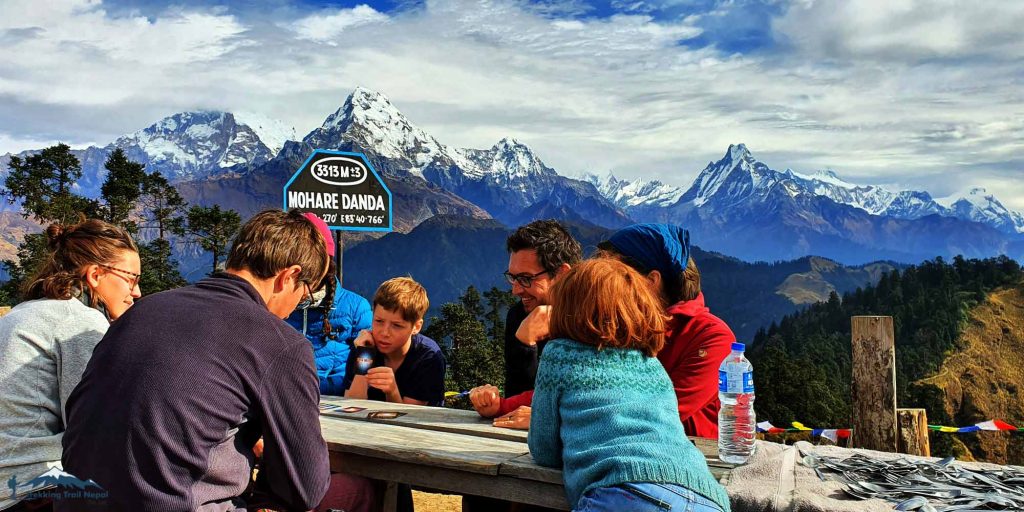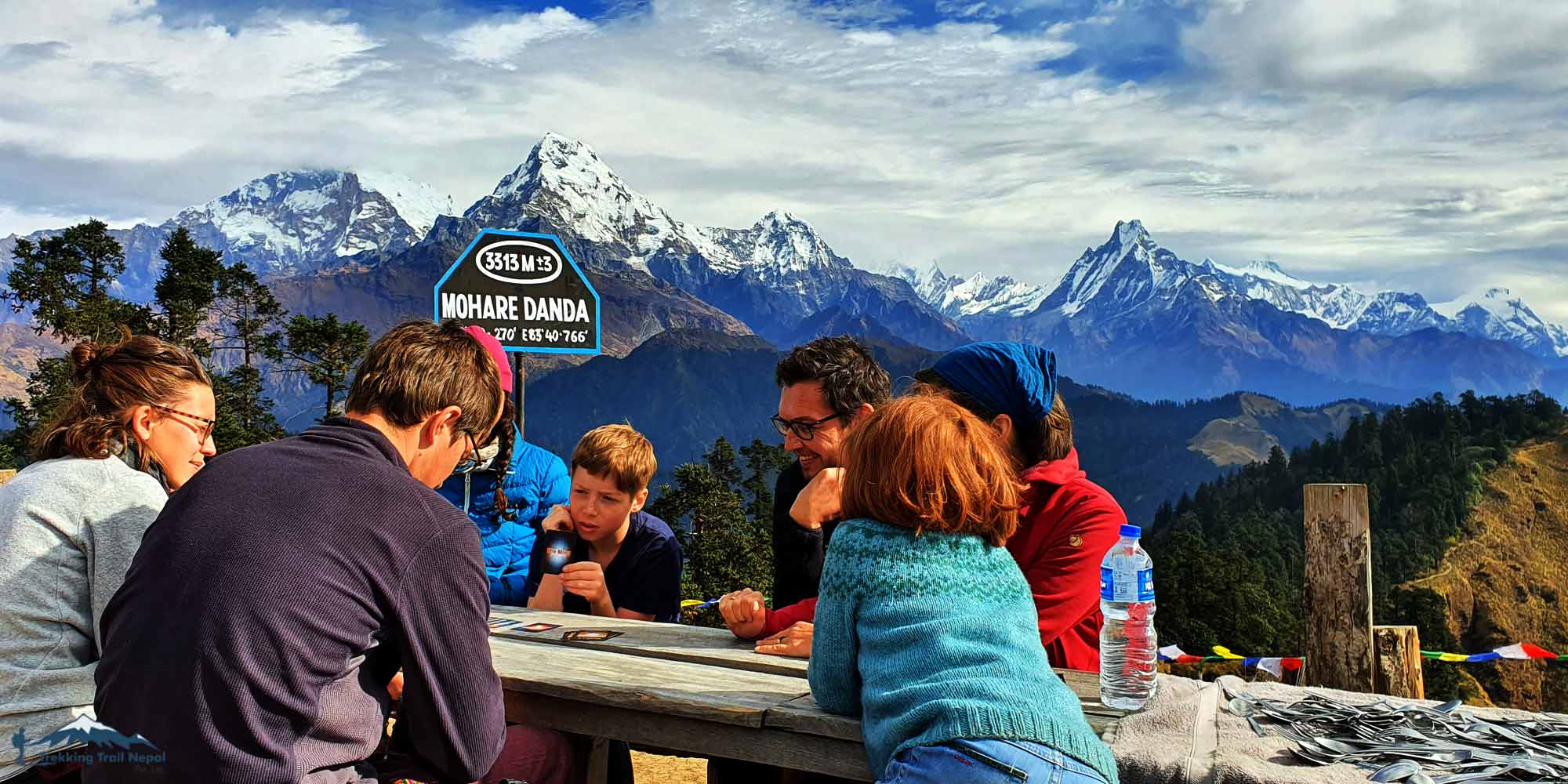 As you advance on which Trek to choose out of ABC or EBC, it depends on your personal choices and travel time. It is possible if you have beginner-level trekking experience but still want to go on an EBC trek. All you need to do is prepare for the trip ahead. Meanwhile, it is a good move if you are a hardcore trekker but still want to journey around the Annapurna Region. It's all on you to choose the Trek that's best for you.
ABC Now EBC Next Year
EBC Trek is more like an adventurous trek to go on a group with people like yourself. Meanwhile, ABC Trek is a trek you can do with your family and children as well. One thing you need to follow is that it doesn't matter where you go on a trip. Make sure you go on the trip with an experienced guide. It is for safety as well as for your overall experience. You want to make the most out of your next Nepal trip, Right?
Best Hotel for your ABC Trekking
Jhinu Danda, Hotel Namaste – 9856068888
Chomroog, Hotel Fishtail – 98462577774
Lower Sinuwa, Sherpa Guest House – 9756000407
Bamboo, Bamboo Guest House – 9846290080
Dovan, Hotel Annapurna Approch – 9756000223
Himalaya, Himalaya Guest House, 9846399602
Deaurali, Hotel Panoroma – 9846257775
MBC – Fishtail Guest House – 9746089377
ABC – Annapurna Sanctuary – 994610002
Conclusion
All in all, ABC Trekking for Nepali is a great option for holiday travel. A family-friendly budget trip around the Annapurna Region can be your next travel destination. Having a variety of trekking trails in the biggest region of Nepal, it is a favorite holiday destination for most people. You always keep in mind whenever you travel to Annapurna Region or any other trekking area in Nepal. It would be best if you went on the trekking journey with an experienced guide. It will help you a lot on your trip. No matter how hard the journey is, you can always enjoy and complete the journey with pure dedication while being prepared for it before.